Setting up a simple quiz (Classic Experience)
The Quizzes tool enables you to create and manage quantifiable assessments. Create and manage quiz questions from the Question Library or the Quizzes tool, and organize quizzes into categories to make it easier to find assessments with similar or related content.
Watch how to create a new quiz
1. Click Assessment in the navigation bar, then click Quizzes. On the "Manage Quizzes" page, start by clicking on the blue New Quiz button.

2. Enter a Name for the quiz.
3. Select Add/Edit Questions.
4. Add questions to the quiz:
Select Add to see a list of options for adding new questions, creating a new question section, or creating a new question category. (See Creating Quiz Questions for more information.)
Select Import to upload a question file or add questions from the Question Library to the quiz. (See Randomizing Quizzes for more information.)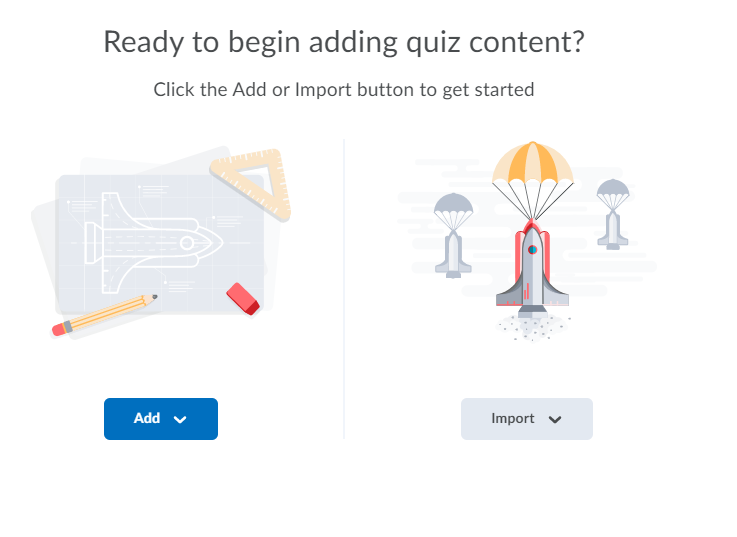 5. Click Save.
6. Hover over until a cross icon appears, then drag and drop to re-order the questions as needed (optional).

Reorder questions in the quiz:

Move questions to another a section in the quiz (note the indent):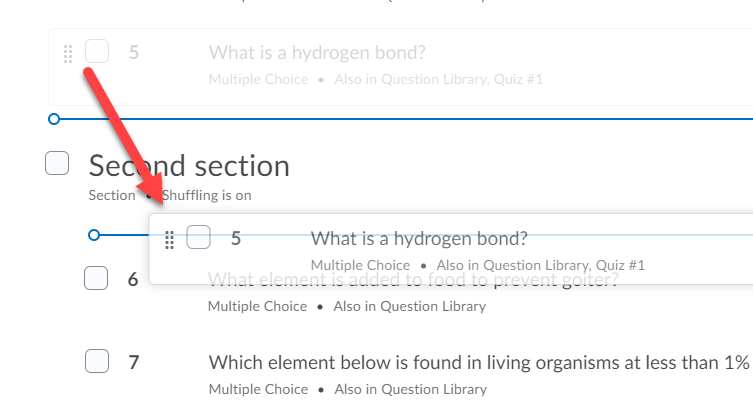 7. Questions will save automatically. When finished adding questions, select Back to Settings to go back to the quiz creation page.
8. Next steps (optional):
9. Select Save and Close when the quiz set-up has been completed.
10. Activate a Quiz.
By default, the quiz status is set to hidden and thus is not visible to students. This visibility must be changed in order for students to take the quiz. When a quiz is hidden, an icon of an eye with a slash will appear next to the quiz name on the "Manage Quizzes" page.
Select the arrow next to the quiz to release a dropdown menu.
Select Make Visible to Users.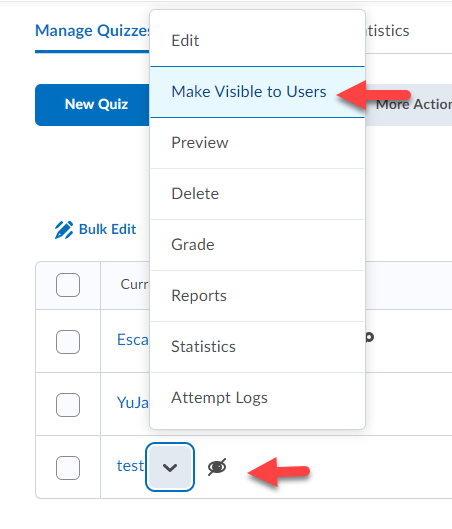 The quiz is now active, and the Manage Quizzes page will be displayed. No eye icon will be displayed next to the quiz name.
Note: By default, only the overall quiz score is displayed on the quiz submission confirmation page. To set up a feedback on answers click here. 
Once you've created a basic quiz, you can further customize it by adding restrictions, customizing the submission view, and adding reports.
D2L keeps a log of every student's activity in a quiz. Whenever a student enters a quiz, saves an answer, changes pages, and so forth, an entry is made into that student's individual Quiz Log.