Setting up Dropbox folder and associate it with a grade item
The D2L Dropbox folder is an assignment submission folder where students upload completed assignments such as document, graphic, audio, and video, files. A separate Dropbox folder is required for each assessment item submission. Linking each Dropbox Folder to the associated Gradebook assessment item guarantees that grades assigned in the Dropbox folder are automatically transferred to Gradebook. Ensure that you have created an Assessment Item in Gradebook for each Dropbox folder before getting started.
To create Dropbox Folders for groups, please review the D2L Group Set-up Wizard tutorial.
To watch video tutorials, please visit the following page:
NOTE: Before setting up Dropbox Folders, you must complete the following:
Gradebook Set-up Wizard: Recommended Settings
Add Assessment Items to Gradebook
We will create a Dropbox folder for a term paper: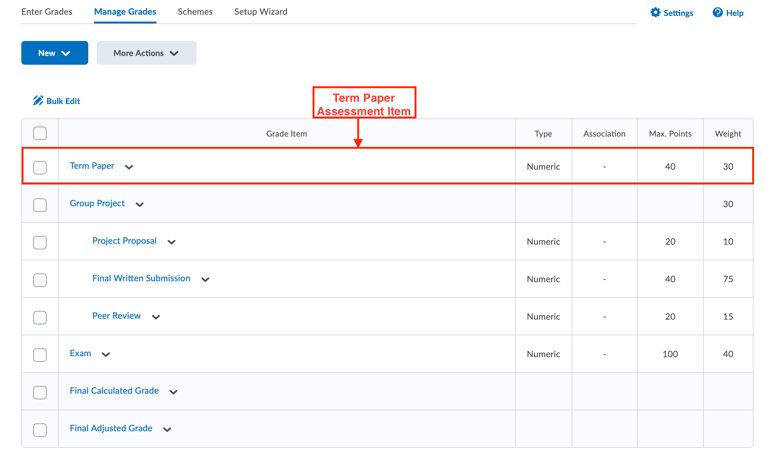 1. In the Navigation Bar, click Assessments. In the dropdown menu, click Dropbox.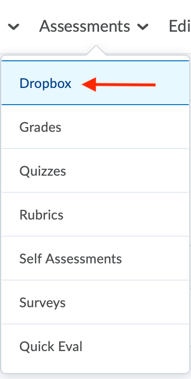 2. Click New Folder.

3. Name the Dropbox Folder. Type in Instructions for the assignment. Click on Add Attachment to add files or click on Record Audio or Record Video to add a recording of assignment details.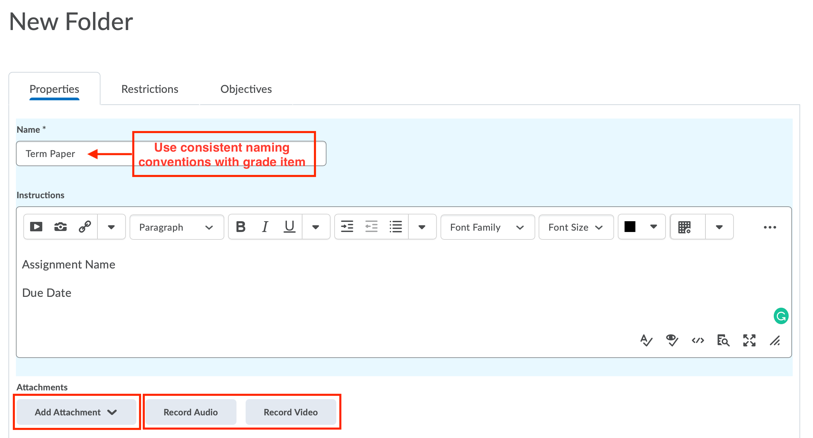 4. Submission, Completion and Categorization
Assignment Type

Click on Individual Assignment to get submissions from individuals. To get submission from a group where all group members have the same grade, click on Group Assignment and select the Group Category.

Note: Group Category must be created beforehand. Follow the instructions here to create a group.
Submission Type

For your course, you may have different requirements for each assignment and an online file submission may not always be necessary. For example, some assignments may just require text-based answers or links to websites, or they involve paper-based submissions, in-person presentations or on-the-job demonstration of skills, etc.

File submission and Text submission require active input from students, ie they have to manually upload a file or type something into D2L. Upon successful submission, they will receive an automated confirmation email.

On-paper submission and Observed-in-person submission types have 3 completion options.

Manually by Learner – The onus is on the student to mark the assignment as complete
Automatically on the due date – D2L automatically marks the assignment as complete on a due date set by the instructor
Automatically on evaluation – D2L automatically marks the assignment as complete when the instructor evaluates the assignment using any of the assessment methods in D2L.
As instructor, if you notice that a student has not met the requirements for an assignment, then you can mark the assignment as incomplete for the student and follow up with them.

Recommended settings for submissions are shown below.
Notification Email

To receive email notifications when submissions are made, type in your preferred email address. This is not advisable for a large class
5. Evaluation and Feedback
Score Out of

This should match the Max Points value assigned to the assessment item in the grade book.
Grade Item

Click on the dropdown menu to select a grade item already created or click on New Grade Item to create a new grade item.
Rubrics
6. Restriction Tab
Due Date and Availability

Click the Restrictions tab to add a Due Date, Start Date and End Date to the assignment. Due dates are automatically posted in the calendar (hosted on the Course Home page). Click on Hide from Users to make Dropbox folder invisible to students.

Click on the date to access the calendar. Avoid setting the due date time at 12:00 (11:30 is preferable).
Release Conditions

Attach conditions to the Dropbox folder being available to students. Click on Create and Attach to create a new condition or click on Attach Existing to add an existing release condition.

Click here for detailed instructions on how to use release conditions.

Learn more about Release Conditions.
Special Access

To allow specific students access to the Dropbox folder outside the set restriction availability and start dates, click on Allow users with special access to submit outside the normal availability dates for this folder.

To allow only specific students access to the Dropbox folder, click on Allow only users with special access to see this folder.

Click on Add Users to Special Access after checking either options and then select preferred options and students and click on Save when done.

Click here to learn more about special access.
Watch how to set restrictions for a Dropbox Folder:
7. Click on Save and New to save the current Dropbox and create a new Dropbox, click Save and Close to return to the main Dropbox Folder page.

NOTE: A Dropbox folder that has been successfully associated with a gradebook item will appear as follows: