View your course as a student
The Role Switch feature in D2L allows you to get an idea (to some degree) of how your course is viewed by students.  Please note that while this works well for areas such as Content, it does not for pages such as quizzes or grades, as you still have your instructor privileges.
To view content from a student's perspective, follow the instructions below:
1. Navigate to Course Home on the navigation bar.
2. In the Role Switch widget (usually located at the bottom of the Course Home page), click the dropdown menu and select Student.
3. Click Change Role. Be sure to exit that role switch when you are done.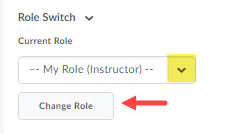 Alternatively, if the Role Switch widget is not available, click on your Profile (name/ image) at the top right hand corner of the page, then select View as Student.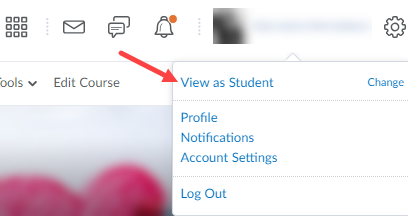 For a guide on how to view Quizzes from a student role, please go to this page.
For a guide on how to view Grades from a particular student's perspective, please go to this page.