Using the same grade item for different quiz sections or quiz times
This guide describes a workaround for associating one grade item for the grading of multiple quizzes on D2L as well as how to use one grade item for the same quiz available at different times for two sections of students. Note that a grade item must be used only once for a student (otherwise it will be overwritten).
First Scenario
An instructor has a course with two sections – Section 1 and Section 2. Section 1 has its own schedule which is different from Section 2. The name of the assignments is the same (e.g. Quiz 1), however you would like to provide a different set of problems. The objective is to use the same grade item for both quizzes that have identical names – Quiz 1 – that will later be exported to a gradebook. This will significantly decrease time spent grading and/or too many grade items that may clutter a gradebook.
1. Create a quiz, edit Properties, and go to Restrictions tab to set up Availability.
2. You will need to add a Release Condition. Select Condition Type by clicking the downward arrow and choose Section Enrolment.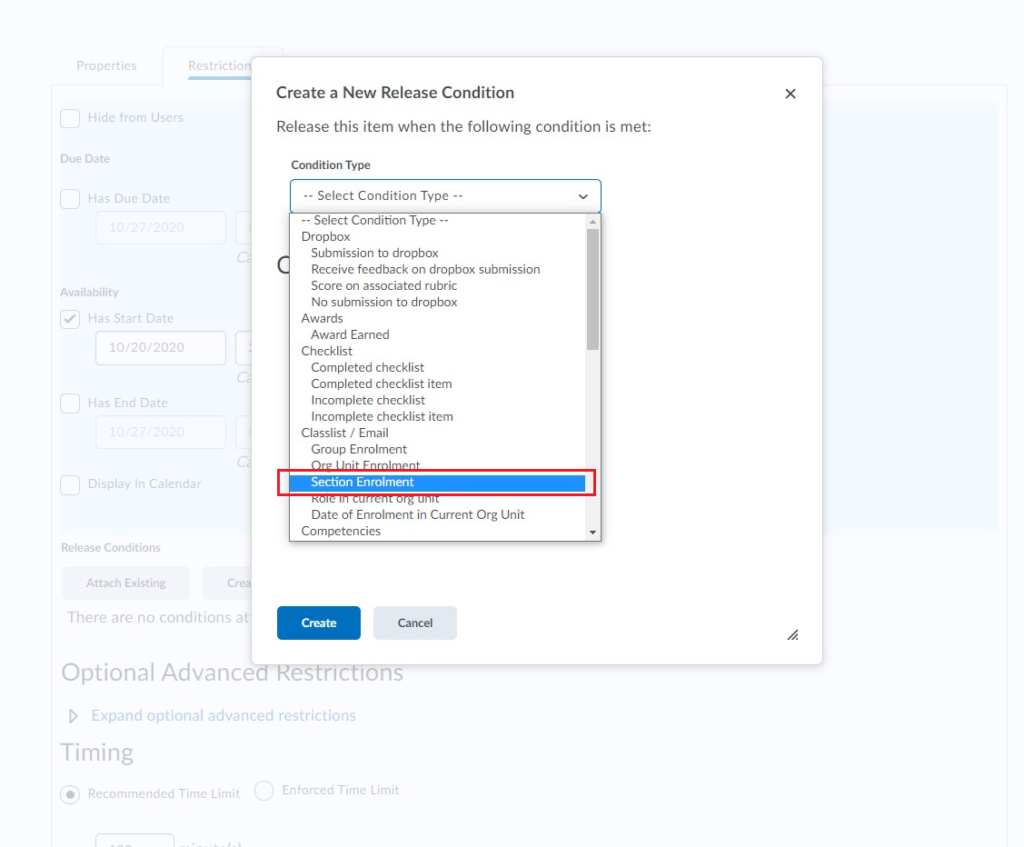 Choose the Section required and click Create.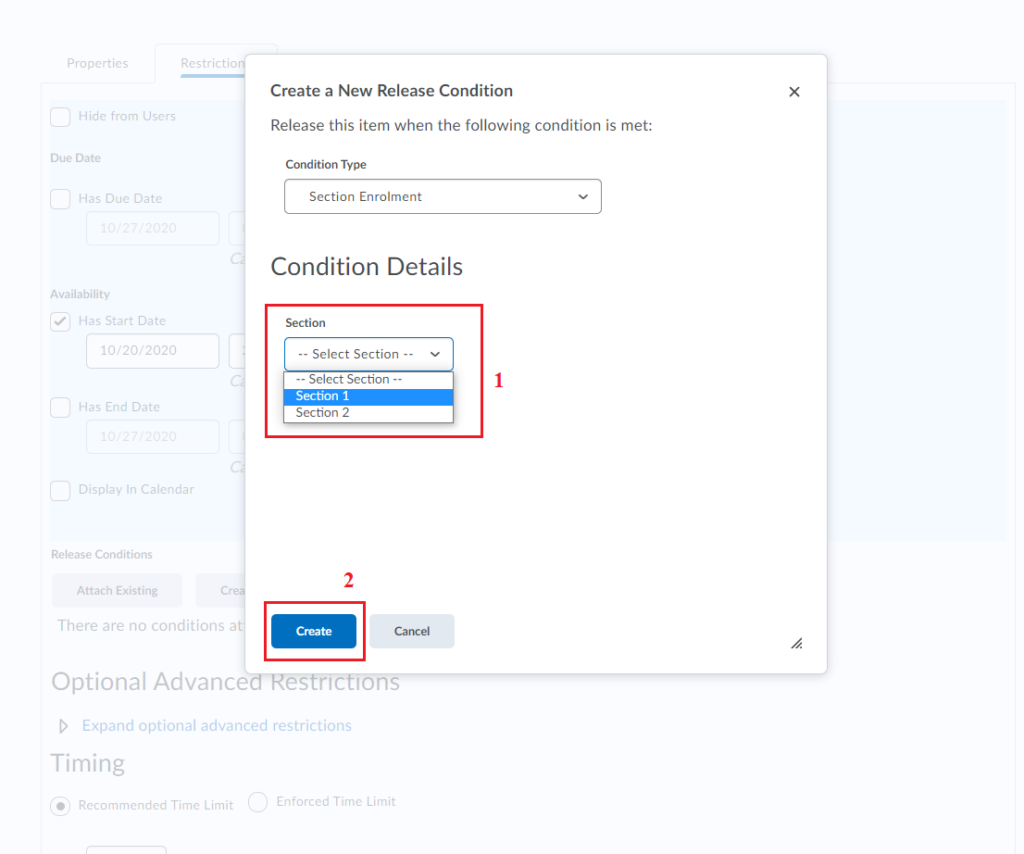 3. To associate the grade item with a quiz, go to Assessment tab, click Automatic Grade if you would like users to see their attempt graded immediately upon completion. You can [add grade item] in a new window or prepare it in advance (please refer to Associating a grade item). Click on the downward arrow choose a grade item to be associated with the quiz.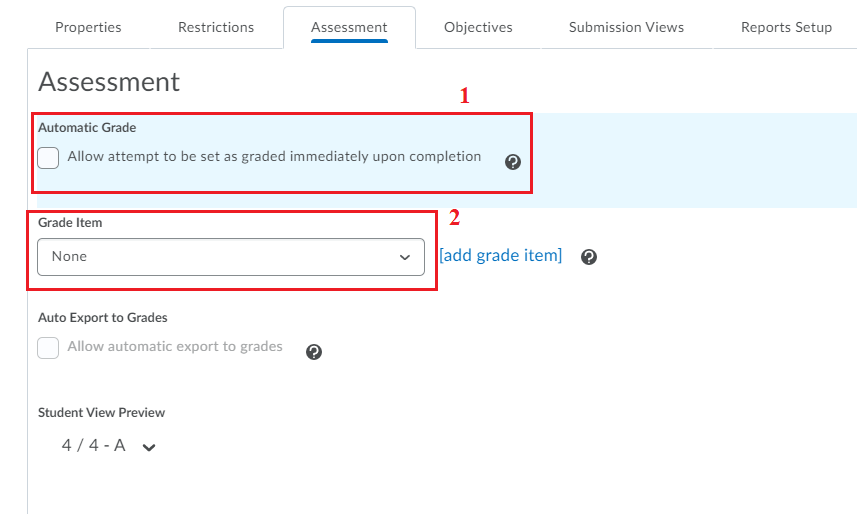 Click on Auto Export to Grades to allow automatic exporting to a gradebook.
4. Finish the quiz set up and click on Save and Close.
5. Go to the quiz that has to be graded, click on downward arrow then Grade and complete assessment (Grade a quiz and/or Add feedback for individual question, if required).
The grade will be automatically exported into a gradebook as soon as you click on the blue Publish button.
6. To disconnect the grade item from the quiz: Go to the quiz, click on downwards arrow, then Edit, then the Assessment tab, then Grade Item downward arrow, choose None, and click Save and Close. This is the same as step 4, but instead of choosing a grade item, you choose "None." Now your quiz has been disassociated with the grade item.
Now, since there is another quiz with the same name–Quiz 1–that has to be taken by a group of students from Section 2, the goal is to associate this quiz with the grade item that has been used before to associate with the grades in Section 1.
7. Refer to step 1.
8. Referring to step 2, select Section 2 instead of Section 1. Follow all the steps from 3 to 5. When you get to Assessments then Grades you will find a question mark beside your grade. If the grade item was not exported into the gradebook, follow step 10.
9. Go back to your quiz by clicking on Assessments then Quizzes, find the quiz that has to be graded and select Grades.
10. At the top of the page, under the quiz name, you will find the options Export to CSV/Export to Excel/Export to Grades/Attempt Logs and More Actions. Choose Export to Grades.
Second Scenario
An instructor would like to use one grade item for the same quiz (the same problem set) that will be available at different times for two sections of students.
2. Set up Quiz 1 for Section 1 by referring to steps 1 to 5 described above.
3. When it is time for students from Section 2 to take Quiz 1, go to Assessments then Quizzes, beside Quiz 1 select the downward arrow and Edit.
4. In the Restrictions tab, specify the Availability dates for when Quiz 1 should be taken by Section 2.
5. Follow step 2 from above and choose Section 2 under Condition Type from the Release Conditions. Click on Save and Close. Now Quiz 1 is associated with the same grade item that was used for Section 1.
6. Grade students' quizzes and publish their grades as in step 5.
7. Go to Assessments then Grades, find the grade item that was related to Quiz 1 and assure that all the grades were automatically exported for both sections of a course.