Students: Sharing your Award(s)
Students can share their awards on social media platforms like LinkedIn in order to showcase their professional development, learning and qualifications. This allows potential employers verify and view students' academic performance.
Students can share their awards on any of these:
ePortfolio on Brightspace
Badgr Backpack
LinkedIn post or via private message
LinkedIn profile (licenses and certifications)
To share awards, go to the course you have been issued an award and click on Awards on the course navbar. Click on the share icon on the course award you would like to share.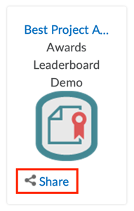 For more information on how to share awards received on any of the platforms listed above, click here.