Activating your course
A D2L course needs to be made Active before students can view its content and access other course tools. Follow the steps below to make the course available to students.
Note:   As the instructor, if you are not able to locate the course you are teaching, refer to the troubleshooting tips on this page http://elearn.ucalgary.ca/do-you-see-your-course/
1. Log in to D2L. Locate your course using the Course Selector. Click into your course.

2. Click on the Edit Course tab on the navbar.

3. Select Course Offering Information.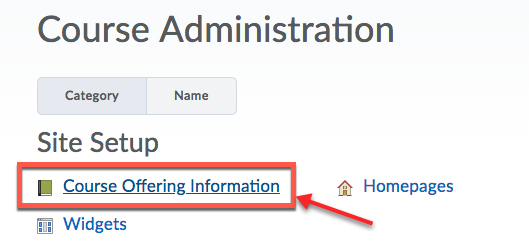 4. On the Course Offering Information page, scroll down and check the "Course is active" box. Click Save. Now your course is active and visible to students.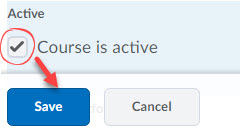 Quick Tip:
We recommend pinning your current courses using the Course Selector. Pinned courses will appear at the top of your list and are also displayed under the My Courses widget on the homepage, making them easily accessible. There are visual indicators to show whether a course is Active or Inactive.

Inactive courses are greyed out. If you hover over the image and click on … , it will bring you to the Course Offering Information page.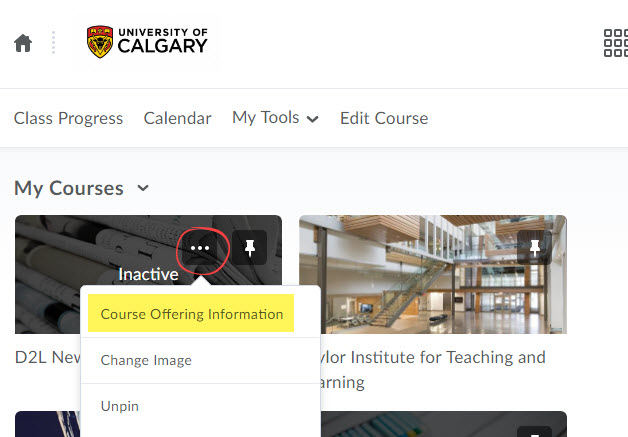 Note: If the "course has end date" box is checked, please ensure the date is set some time in the future. In compliance with Copyright regulations, all credit (PeopleSoft & Continuing Education) courses created in D2L have an End Date pre-populated by default. Access for students is generally turned off a year after the course has been completed.