Adding a TA or instructor to your course
Open Video Tutorial: How to enroll a TA in your D2L course
These instructions will help you enroll additional users in your D2L course, e.g. a teaching assistant (TA) or a second instructor. You will need Instructor or Course Administrator access to perform the steps below.

1. In your D2L course, click on Communication, then select the Classlist/Email option.
2. Click on the blue Add Participants button, then from the drop-down menu, select Add existing users.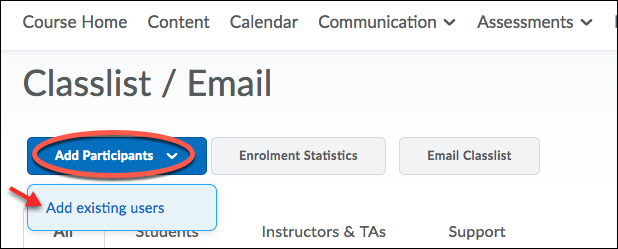 3. Search for the user you wish to add to your course. You may look up the individual's name or email address, but the most effective way would be to search for the person's 8-digit UCID number (here called Org Defined ID). Click on the magnifying glass to complete the search.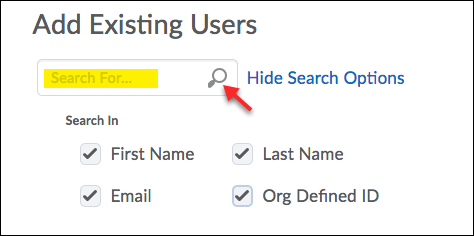 4. From the search results, locate the person you wish to add, put a checkmark by their name and choose the status you wish to grant them using the Select a Role drop-down menu. For credit courses, you will also be prompted to Select a Section. You may choose any section as this restriction does not apply to TA's or Instructors. Click the Enrol Selected Users button to complete the enrolment.

There are several role types you may choose from:
TA – full access: Can perform similar tasks as the instructor, with a few exceptions (e.g. cannot release final grades or create Adobe Connect Meetings)
TA – grading only: Has access to manage Grades, but cannot add or modify content
TA – No grading: Has access to perform duties as a "Course Builder", but does not have the ability to manage Grades
Instructor ReadOnly – Has viewing rights to the current course and the ability to export materials to another D2L site (excludes student data)