Customizing Navbar
The new D2L (Daylight) design allows you to modify the course Navbar more easily. However, for credit courses, we do not recommend making any drastic changes. According to a survey conducted on campus, students prefer consistency across courses. This will ensure that they are able to access content and other course tools easily on any device.
As the instructor, should you decide to customize the Navbar, follow the instructions below.
1. Hover over the navigation bar and click on the three dots icon. As a first option, the dropdown menu may display: Customize This Navbar (if it is your first time doing it) or Edit This Navbar if you have already edited it. We suggest clicking on Manage All Course Navbars to customize your navbar for the first time.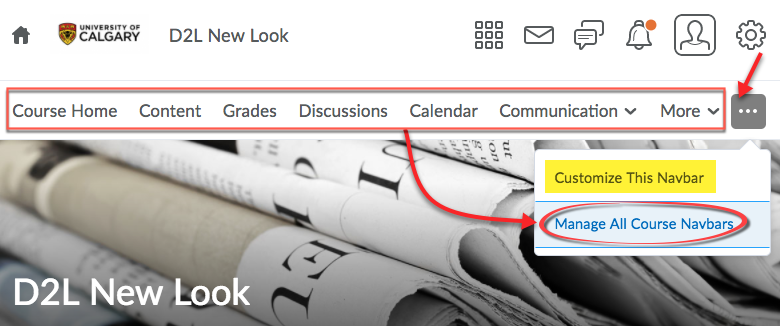 2. Because the Navbar is a shared feature, first you need to create a copy of the active Navbar.


3. Click on the Navbar copy link: "course navbar –default – Copy".

4. Edit the Name of the Navbar.

5. To remove links on the Navbar: hover over the link you want to remove and click on the X.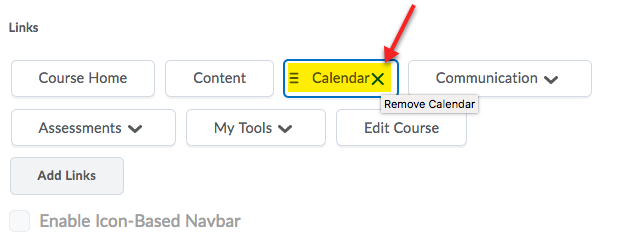 6. To change the order of the links, click on the link you want to move and drag it to a different position on the Navbar.

7. To add a new link to the Navbar, click the Add Links button and select the link you would like to add. You can add existing links or create your own custom link.

To add an existing link
Use the search box to find it if you know the name, or scroll down the list and check the link's box. Click on the Add button.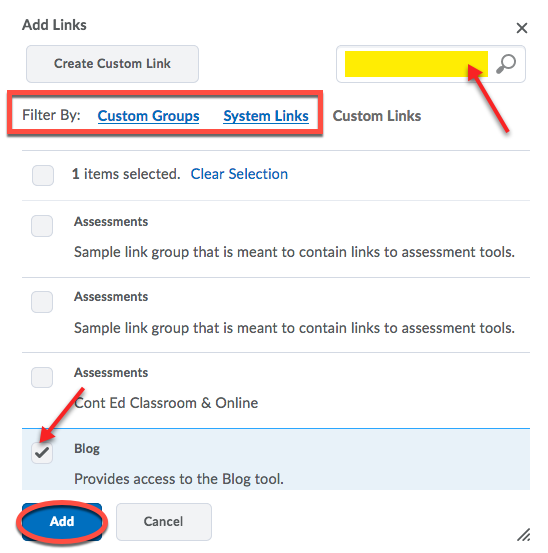 To create a custom link
Click on Create Custom Link. Give your custom link a name and insert the URL. Click on Create.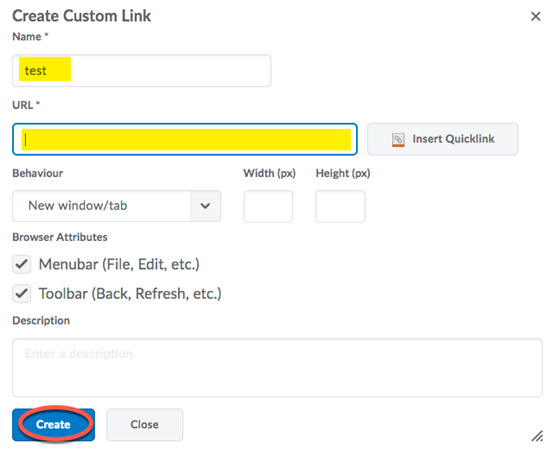 The new link will be automatically checked on the Add Links list, so you just need to click on the Add button.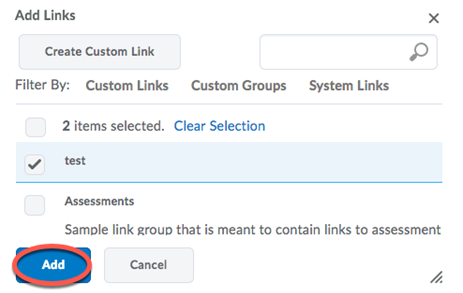 8. The Theme determines the design and appearance of your course site, often including its layout. In this case, it will change the logo that appears at the top left of your home navigation bar.

9. The Change the title in the navbar option under More options, allows you to hide or change the name of your course in main top Navigation bar. Default option is to show your course name: "Org Unit Name".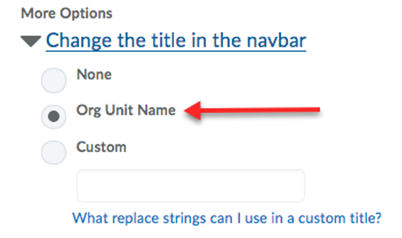 If you decide to click on custom and give your course the name "test" you will see the following change:

will change to:

10. When you are done editing the Navbar click on Save and Close.

11. You can preview the Navbar before applying to your course home by finding on the list and clicking on Preview. You can create another copy or delete it.

12. If you are happy with the customized Navbar then go to the Active Navbar box, type the Navbar name or select the Navbar from the list. Click on Apply.