Getting started with Yuja (Students)
Viewing Videos and Logging into YuJa
A YuJa account is not required if you are simply viewing a video, unless the author has requested that you authenticate first. If the content creator has utilized features such as Index (bookmarks), Captions or has attached additional Resources, click on the Sidebar icon to access them. If the owner of the video has enabled Authentication for the link or embedded the video in a D2L course, you may also add/ download study notes.
As a student, if you need to create or share a video as part of your course assignment, you may access YuJa by going directly to the website https://yuja.ucalgary.ca/ (Note: Direct access to the YuJa tool within D2L courses is restricted to Instructors.)
Log in directly through the YuJa website (IT Account required)
From the Login Using drop-down menu, select University of Calgary Single-Sign-On. Click the Login button.
When prompted, enter your IT username and password, then click Sign In. (Your YuJa account will be provisioned upon your first login.)

Viewing and Uploading Videos:
No software installation is required if you are viewing a video. If you would like to upload a video, follow these steps:
Choose Manage Media at the top of the screen.
Drag-and-drop files into the Platform from your Desktop or file browser. The upload will begin automatically. Click here for further details.
Recording videos using YuJa Software station:
If you wish to create a recording on your computer (eg create a screencast of what is happening on your screen or record a narrated PowerPoint presentation), you will need to download and install the YuJa Video Capture Software.
Click here to see System Requirements & Recommendations.
If you are using a personal computer, or have administrative rights on your PC or Mac, simply log in to YuJa, then click on Create Recording. Click Download to get the software package.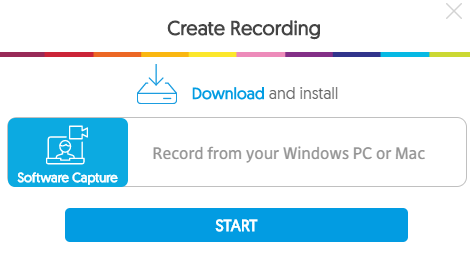 Once you have installed the application, you will be able to create recordings:
How to create a video on a Mac
Sharing your Videos:
Direct Links enable you to share media with anyone, including individuals outside of the university without UCalgary accounts.
Share your video using a Direct Link
Accessibility Features in the Media Player
YuJa's Media Player provides a number of options for Viewers to increase accessibility, including customizable Caption Settings, Audio Descriptions, and Keyboard shortcuts.
Have questions or need more help?