Zoom Guidelines for Students
These tips will help improve your online Zoom class experience, and that of your instructors and classmates.
1. Microphone
Please keep your microphone muted while the instructor is presenting.
Keyboard shortcuts:
Windows: Alt + A
Mac: Command (⌘) + Shift + A
Long press Space – if you are on mute, you will be temporarily unmuted while holding Space.
Click on the microphone icon to Mute or Unmute yourself.

2. Questions
Please type your questions in the Chat or unmute your mic to speak.
You can raise your hand by going to Participants at the bottom of the screen and clicking on Raise Hand. To lower your hand, click on the same button.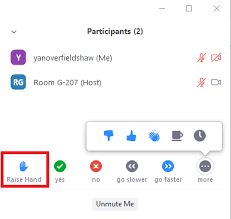 Keyboard shortcuts:
Windows: Alt + Y
Mac: Option + Y
You can also give a thumbs up to quickly answer a yes/no question. Click on Reactions at the bottom of the screen. It also allows to use the symbol Clap Hands.

3. Discussions & Activities in Breakout Rooms
Breakout Rooms will be used for class groupwork. After the instructor announces a groupwork activity, you will see the following window: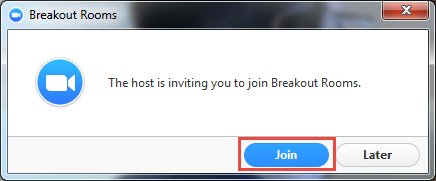 After you click on Join, you will see the message.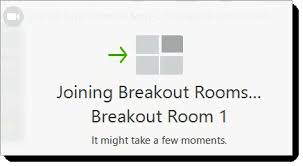 The instructor will broadcast a message with the discussion question or activity instructions, which you will see at the top of the screen.
During the breakout session, you can invite the host to join the room by clicking

Ask for Help at the bottom of the screen. Confirm your need for assistance by clicking

Breakout Rooms will close in 60 seconds and timer will be displayed at the end of the discussion, after which you will be taken automatically to the Main Session.
4. Brainstorm and write down ideas
Whiteboard. To share your ideas, you might be asked to write on the Whiteboard which the instructor will be sharing. To do that, move your cursor to the top of the screen and click on View Options – Annotate.

The annotation box will open up and you can use any of the tools shown. Click on Save to save the whiteboard.

Google Jamboard. You may be asked to use Jamboard for discussions. The instructor will share a link which you will follow. That will open a Jamboard in the browser.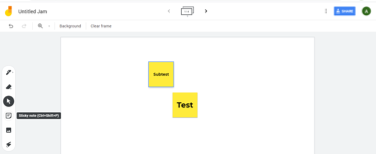 Click on the sticky note icon on the left of the screen to add write down your ideas during discussions.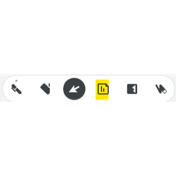 5. Zoom classes will be recorded. If you have any objections to that, please let the instructor know, and it may be cancelled.