Cannot Launch Zoom Meeting in D2L using the Firefox browser
Issue
When accessing a Zoom meeting created within a D2L course using Firefox, users may notice an error message similar to the one below: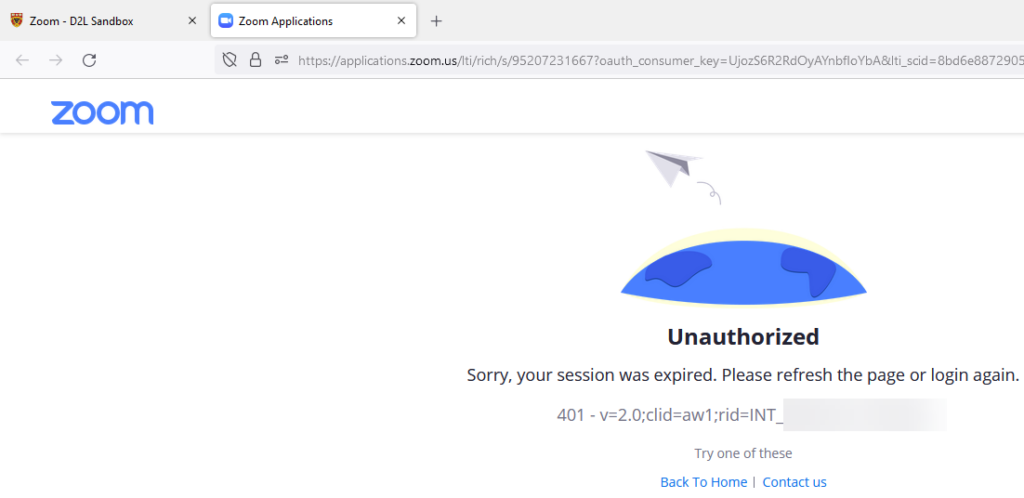 Workaround Option 1
If you have a different browser on your device, such as Chrome or Edge, please try loading the D2L page and joining the Zoom meeting from there.
Workaround Option 2
If you need immediate access to the D2L Zoom meeting and prefer to use Firefox, then you may consider turning off Enhanced Tracking Protection for the D2L site and then refresh the webpage and load the Zoom meeting again.
To turn off Enhanced Tracking Protection for D2L in Firefox:
Click on the Shield icon on the left of the web address bar. Note that you may have two tabs opened in Firefox. Choose the page that shows https://d2l.ucalgary.ca… in the URL.
Toggle the Enhanced Tracking Protection switch to turn it off.
Click Resend if prompted. Alternatively, reload the D2L page and try to join the Zoom meeting again.