Republish Adobe Presenter Presentations
If you still have the original Adobe Presenter presentation (including all PowerPoint slides and audio clips) on your local machine, we recommend republishing your presentation using those source files. Also, as support for Adobe Flash Player will be ending on December 31, 2020, please ensure you publish your new presentations in HTML format only.
If you no longer have access to the original files, you may try the steps below to download and publish your presentation to another campus-supported platform, such as YuJa or D2L.

1. Log in to https://connect.ucalgary.ca

2. Navigate to the Content tab. Under My Content, you will see a list of all your presentations.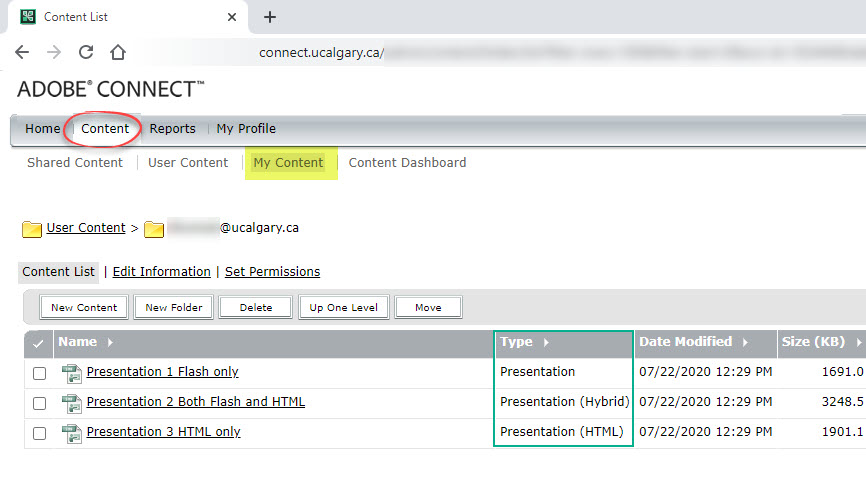 IMPORTANT: The Type column will indicate which format your presentation was published in.
Presentation and Presentation (Hybrid)

Both "Presentation" and "Presentation (Hybrid)" contain swf/ Flash files, which means that even if you were to republish them to another platform, your viewers may still have difficulty accessing them when major browsers discontinue support and block Flash from running at the end of 2020.
Presentation (HTML)

"Presentation (HTML)" contains the presentation exported to HTML5 only. The HTML5 output for interactions might appear differently as compared to SWF output.

Presenter imported videos (FLV) from previous versions are not playable in HTML5 output. You need to re-import them into the current version.
If a slide has two videos in any combination like(slide+sidebar, pptx +presenter video on slide, two pptx video on slide) then a warning message might appear in the publish warning message as it is not supported on iPad.
Mute slide video and sidebar video might work properly in desktop but it might not work on an iPad.
Application Simulation, video trimming, attachments GIF animations, slide transitions, animations on question shapes, and audio in interactions do not work in HTML5 output.

Click here for more information.
Also, it is important to note that whether your presentation will function properly in another environment will depend on factors such as:
The authoring tool and the version originally used to publish the presentation.
Whether the package contains obsolete technologies or ones that are deprecated.
Whether the correct publishing and reporting options were selected within the authoring software.
We suggest you publish your Adobe Presenter files as HTML5 only as your viewers may have difficulty accessing them when major browsers discontinue support and block Flash from running at the end of 2020. While using HTML5 content, you might observe some of the known behavior in different user scenarios as listed here. 
This is a good opportunity to think about whether you would like to spend time troubleshooting potential compatibility issues republishing your presentation or if it would be more worthwhile to create new online content using tools that are supported/ up-to-date.
3. Click on the name of the presentation you would like to export, then go to the Download Content tab.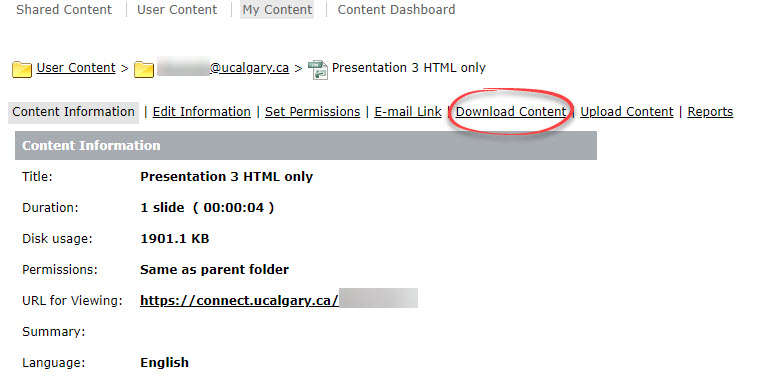 4. Save the zip file listed under Download output file(s) onto your computer.

5. Now that you have the zip file for your presentation, decide where you would like host this content. Here are some options:

A) Publish to YuJa as a link to be shared with your audience [Start at Renaming the File section.] If you are new to the YuJa platform, you may sign in via https://yuja.ucalgary.ca to be provisioned an account. See further details here.

B) Upload to a D2L Course