Editing a Video on YuJa
The video editor tools in YuJa can be used to trim parts of recorded videos, insert slides and images, edit captions, and other perform other video editing tasks. The following is a guide on using the trim and cut tools. For more information on how to use other Yuja editing tools, click here.
Accessing Yuja Video Editor  
1. Navigate to the right side of the video and click on Edit.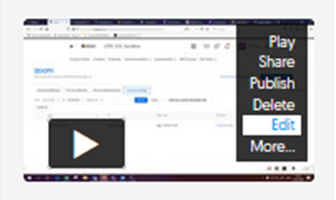 The Yuja Video Editor opens up a new window to edit the video. 

The following are the tools available on the Yuja Video Editor.

Trim Start removes unwanted content at the beginning of your media.
Trim End removes unwanted content at the end of your media.
Cut removes content at any point in the media. 
Undo removes your most recent editing changes 
Insert Slide replaces a portion of the video with a single PPT slide or other file types of your choosing. You can also include a title slide using the Insert Slide option. 
Add a Video allows you add another video to the point selected on the video timeline.  
Image Tools gives access to the Watermark and Blur option.
Text Overlay adds text to your media.
Telestration icon allows drawing directly on your media. 
List of Actions allow tracking of your actions
CC button allows you edit associated captions.
Index allows you segment your video into sections. Add a title to different segments of your video. 

Choose Save to save your video under a new name; the Video Editor is non-destructive, and your original video remains fully intact.  
Using Trim Start and Trim End in the Video Editor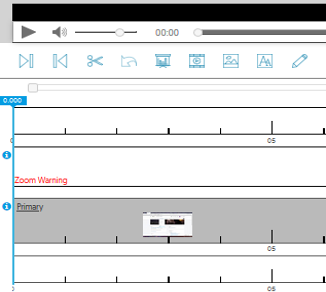 1. Click Trim Start to create a selection window moving from the beginning of the media forward. Use Trim End in the same way. 
2. Click and drag from the beginning or end of the video to the desired start point or end point. 
Using Cut in the Video editor
Use Cut to remove unwanted content at any point in the media.
1. Select the point in the video you want to start the cut.
2. Click on the Scissors icon.
3. Click and drag the bar above the thumbnails to highlight the section of the video you wish to remove.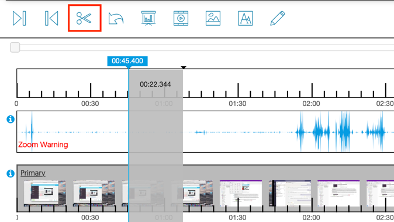 4. Double click on the grayed area to put in the exact start and end time you want to cut and click Apply when done.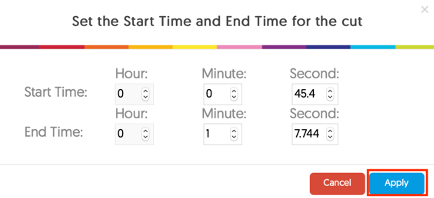 5. Once done editing, click on Save at the top of the video editor screen.

6. Edit the title and description if necessary. Save as a new video or Save to replace the existing video.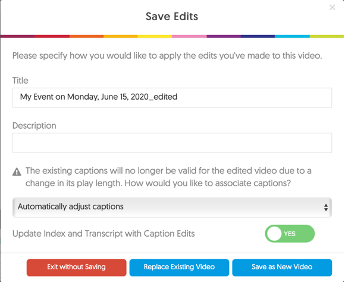 7. The saved video will be processed and will appear on My Media page of your Yuja account.