How to Retrieve the URL of an Adobe Connect Meeting/ Archive you have created in D2L
1. In your D2L course, click on Communication, then Online Rooms on the navbar.
2. Identify the name of the session you would like to get the direct link to.
3. Take note of your D2L course's OUID. This number appears at the end of the course URL.
4. Log in to the Adobe Connect Meeting server https://connectmeeting.ucalgary.ca/ with your host username and password.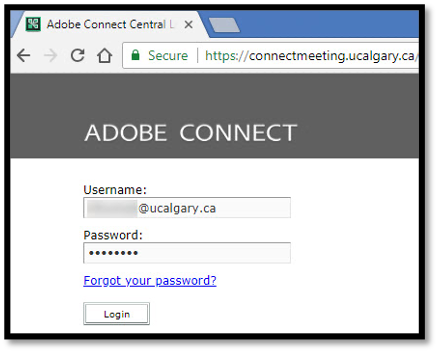 5. Click on the Meetings tab.
6. Search for the meeting that has the same name as the session you have created in D2L, but with the course's OUID added as prefix. Click on this link.

7. Copy the session URL and email it to yourself, your guests and/ or students. If you need to log in as a Host, please use your Adobe Connect Meeting username and password. Other users may simply log in as a Guest with their first and last names.

8. If you wish to access, edit or convert your archive (recorded session), click on the Recordings tab.