Creating a Sway ePortfolio
Top 3 Designs
Use Sway to create a digital ePortfolio presentation. Sway is one of the Microsoft Office 365 Suite apps. UCalgary students have free access to Sway using their Office 365 email accounts.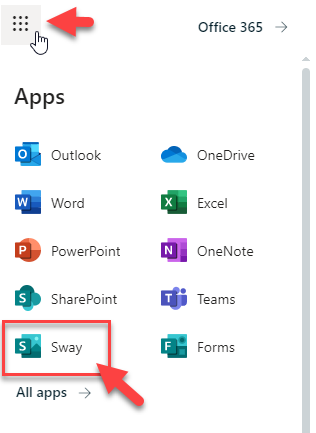 Learn more: Sway Basics
Learn more:Take your Sway wherever you go: How to export your ePortfolio
You can select "Create New" and build a Sway ePortfolio from scratch, but before you do, consider three time-saving ways to articulate and express your learning journey and enhance it with design. Think about what works best for you by reading the three options below.
1-The Word Sway

Write your content and information like a traditional paper in Microsoft word. When you want to move your word document to Sway, choose "Start from a Document" and Sway will recognize the formatting and create your presentation for you. This option is a great choice if you are comfortable working from Microsoft Word and appreciate a tool doing the designing and styling for you.

Design time investment: Low

Perks:

Sway formats a design and integrates the content for you rather than copy/pasting your content into sections and choosing layouts, headings, styles, fonts, etc.
You don't have to worry about how to learn/use a new technology
Continue working and revising in Word until you feel ready to move to Sway


Learning curve: Low

You must know how to create proper Headings, add hyperlinks, and insert images into a word document.
If the word doc is not formatted properly, the conversion may be troublesome.

How-to resource: https://theother-it.com/create-sway-from-document
2-The Topic Sway

Start from the Sway homepage and select "Choose a Topic". Sway will create a suggested organizational framework for your content with titles, headings, text sections, and image sections. This is a good option for those who don't mind copy/pasting their content into sections in a Sway but would rather not worry about choosing a structure or style.


Design time investment: Low – Medium


Perks:

Sway chooses a topic format for you and you can customize as you go
You can visualize the structure and organization of your ePortfolio first and think about how to write in your content after.

Learning Curve: Low – Medium

You must know how to use Sway tools to change images and add your own content to the sections it creates for you.

How-to resource: https://theother-it.com/sway-from-topic
3-The Template Sway

Start envisioning your ePortfolio and "Select a Template" from several examples and "Start Editing this Sway". These templates are great starting points and differ from the Topic Sway in that the stylized templates offer a variety of layouts to consider. Sway templates examples that work best for an ePortfolio are; "Portfolio", "Report", "Presentation", "Blog", "Newsletter", "Vacation Story" and "DIY Project". This option is for you if you're looking for a presentation that has structure and style.

Design time investment: Medium – High

Perks:

You can choose from a variety of templates that are ready to use
The existing templates can help you conceptualize your learning story
More creative control


Learning curve: Medium – High

You must know how to use Sway tools to change images and add your own content to the sections and change any formatting/sections you don't need. Depending on how many changes you have, the time investment will vary.

How-to resource: https://theother-it.com/create-sway-from-templates